In-Stock Equipment
1- Concord 52M (2014/2014)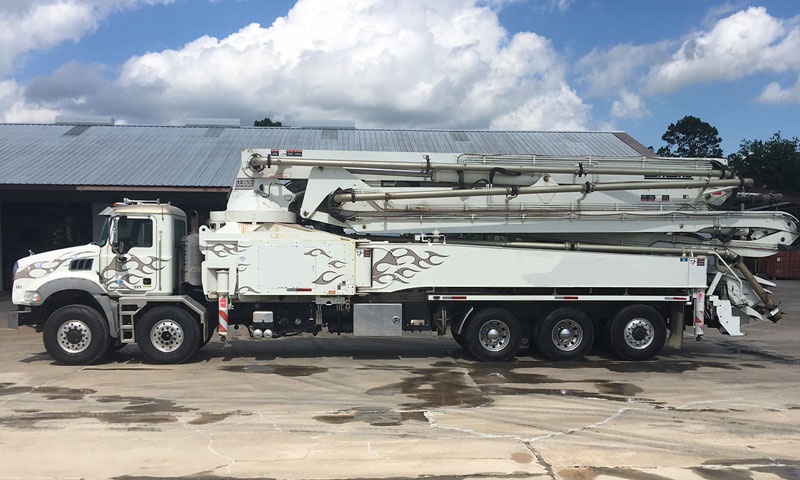 Ready to drive anywhere. READY TO PUMP CONCRETE!
Call for full details (4) drive axles 1-3-4-5 are drive axles, STOCK FRAME height. 1 & 5 are hydro-static drive axles.
REAR-most axle is STEER-BY-WIRE (and drive non-lift) turns in forward and reverse, for VERY tight turning.
Stored inside every night. Not your fathers TOR.
General Pump Information
| | |
| --- | --- |
| Pump Make | Concord 52 |
| Pump year | 2014 |
| Pump s/n | xxxx |
| Pump hours | 1100 |
| Valve type | S-tube |
| Remote | HBC proportional radio w/ b-u |
| Pipe line | 5" Metric |
| Pipe condition | Good TW |
| Paint | Good White |
| Last boom inspection | Current |
| Truck VIN | |
| Truck make | Mack |
| Truck model | Granite 10x8, (1) first and last axles drive via hydrostatic power, no-shafts, rear axle is steer by wire and driven. All on standard height frame. Its not your father's Tor. |
| Truck year | 2014 |
| Miles | 37,083 |
| Engine make / HP | Mack 505 HP |
| Transmission | Allison Automatic, 6 speed 4500 |
Pump Specifications
| | |
| --- | --- |
| Maximum output {fully variable} | 300 cu yds/hr |
| Concrete cylinder {hard chromed} | 11" x 83" |
| Strokes per minute | 31 |
| Concrete pressure {rod side} | 1,43 PSI |
| Concrete pressure {head side} | 1600PSI |
| Hopper capacity | 21 cu/ft |
| S-tube | 9" x 7" {220 mm x 180 mm} |
| Hydraulic pump | Rexroth |
| Hydraulic system | Open loop (HPG) |
| Max. aggregate size | 2 1/2" {65mm} |


Boom Specifications
| | |
| --- | --- |
| 5 section Z-fold {vert. reach} | 170'7" |
| Maximum horizontal reach | 158'6" |
| Reach from front of truck | 149'3" |
| Unfolding height | 31'1" |
| Rotation | 370 degree |
| Section articulation | 92 / 180 / 240 /180/245 |
| Proportional Boom | YES, corded back-up |
| Delivery line | 5"M {125mm} TW |
| | |

Standard Features
One cable remote control and one radio remote control
Clean-up water system with 210 gallon tank
Diesel fuel saddle tank 80 gallon
Hopper vibrator
Automatic lubrication system {hopper only}
Boom tip hose, single ended, straight 5"
Inspection visits welcome, pump water with snorkel
**Customer is responsible to check any/ all specifications
**This is a used pump and may not contain all standard items listed
For more information contact: