CIFA Pumps
CIFA-K45-H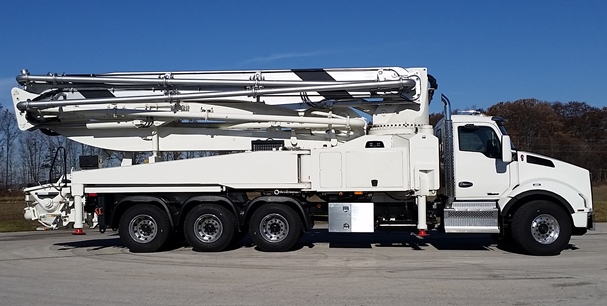 Download Spec Sheet
A 45-meter boom with five sections, the last two of which are made of CARBOTECH, with CIFA Long Life Pipes double layer 125 mm diameter pipe system. The HPG 1408 –IF9 pumping unit also comes in the "EPC" electronic version: maximum capacity 140 m3/hr, maximum pressure on concrete 80 bar.
A 9-inch S valve: optimal efficiency and performance, high concrete flow intake with minimum wear and tear. "RZ" fold-up system.
Subject to durability tests for over 10 equivalent operating years.
Patented K-TRONIC electronic unit to control stability and data logging: automatically controls machine stability, alerts the operator and prevents any critical configurations.
Can be mounted on an 8x4 truck for a total weight within 32 tons.