C Series
C Series concrete pumps have outputs from 50 to 90 cubic yards per hour. These ultra high-performance pumps are used for the most extreme concrete pumping, high rise building construction, geotechnical grouting, long distance horizontal concrete line pumping, tunnel construction, structural wall construction, parking garage construction, concrete wall construction, concrete dome and storage tank construction, and the world's highest - volume shotcrete projects. They feature smooth running "closed-loop" hydraulic systems, 6-cylinder Cummins diesel engines (160-220hp), high concrete pressures (up to 2,000 psi), Reed programmable logic controller, twin-axles, twin-shift cylinders, heavy- duty "S-valves", reinforced high-pressure hoppers (C50S and C50SS), and harsh-mix hoppers (C70S, C70SS, and C90S).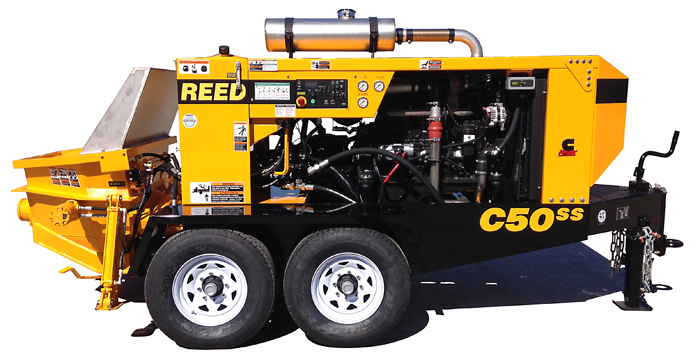 *C Series Specification Sheet (pdf)
*Model C50SS Concrete/Shotcrete pump video and photos
*Model C70SS Track mounted pump photos
*Model C90S high-pressure/high-volume concrete pump video and photos
---
C Series Pumps
Ultra-High performance: concrete pressures up to 2,000 psi, and up to 220 horsepower.
Rexroth closed- loop, over-center hydraulic system: Reed's most efficient and smooth-running trailer pump hydraulic system EVER.
Cummins diesel motors: these new engines are very powerful (160HP or 220HP 6-cylinder), very quiet, and very efficient (low RPMs)
Reed PLC (Programmable Logic Controller): allows for quick and easy diagnosis and analysis.
Variable volume and RPM controls: at the optional remote control box.
Twin-shift cylinders: for fast, powerful, even shifting with the stiffest mixes.
Adjustable shifting-force value: lets you increase force for harsh mixes and decrease force during clean out. ONLY Reed pumps have this feature.
Many common hydraulic hoses: field-experienced engineers designed the layout for maximum ease of maintenance.
The strongest trailer in the industry: There is 18" of steel between the rod and the axle.
Dual 7000 lb. axles: provides the most durability possible.

Integrated locking toolbox: a convenient place for secure storage.
High-pressure reinforced hopper: for the toughest mixes.
Please contact: Mark Irving 419-448-9891 or 419-448-9891
email: mirving@irvingequipment.net for more information