Crane Accessories
Heiden Crane Accessories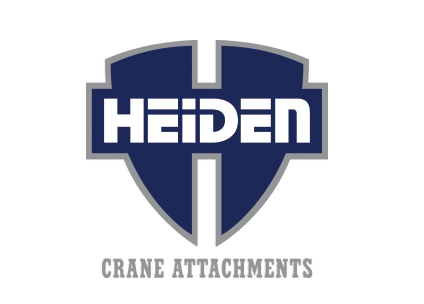 Crane Attachments
Heiden's Manufacturing Capabilities
Since 1958, Heiden has been fabricating custom and contract metal parts and quality Crane Attachments for customers.
As a U.S. Manufacturer, Heiden's capabilities make it possible to provide metal fabrication solutions to meet customer requirements, anywhere in the world.
Heiden, Inc. is ISO 9000:2008 certified. They manufacture a wide range of products using steel, stainless steel and aluminum.
Design Services
Heiden's complete in-house design and engineering department adds to their customer-oriented services, and enhances production capabilities. In addition to standard layout and drafting projects, their CAD/CAM/CAE system allows them to perform computer aided analysis and design work.
They can develop products from initial design, including visual representations through SolidWorks, engineering schematics and all pre-production work. They also develop production drawings where necessary.
Production Capabilities
Their manufacturing and administration facility is designed to best meet the needs of both current and future customers.
Please take time to review their equipment. There, you can see the capabilities we are able to provide to customers. They welcome any and all inquiries about projects. You will see reflected in their proposals, the cost of savings and added value their services and capabilities can provide for our stainless steel, aluminum and higher alloy metal fabrication projects.
Heiden is continually building unique quality crane attachments for clients. Please contact us if you'd like to discuss the parts you see here, or possible new crane attachment solutions for your needs.
Click on the name of the crane attachment to see more information about it.
| | |
| --- | --- |
| Butt Grapple | |
| | |
| | |
| | |
| BLT Grapple | |
| Compact Log Bypass Grapple | |
| Bypass Grapple | |
| Storm and Trash Grapples | |
| Pallet Fork | |
| Wallboard Fork HCF Series | |
| Manual Wallboard Fork | |
| Clam Bucket | |
| Super Clam Bucket | |
| Hoisty Hopper | |
| Roof Hopper | |
| Super Dumper Box | |
| Remote Power Pack | |